Produkte von Artillery 3D aus der Kategorie 3D-Drucker & mehr > Hersteller > Artillery3D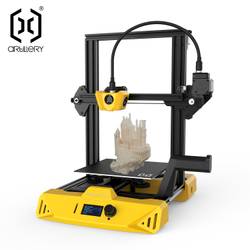 Artillerie Hornet
Einfach zu montieren:
Integrierte Struktur mit Metallprofilkörper, 95% hoch vormontiert, nur 3 Minuten zum Aufstellen, keine Gefahr von Kabelsalat, einfach zu installieren und zu warten, schnell zu bedienen.
Zuverlässige Qualität:
Hochwertiger Aluminiumsockel und -träger sorgen für Robustheit und Langlebigkeit. Die Stromversorgung ist vernünftig in der Basis geschützt, um die Lebensdauer zu verlängern. Eine Kombination aus wissenschaftlicher Konstruktion und prägnantem Design.
Hohe Präzision:
Remote-Titan-Extruder mit stärkerer Extrusion, stabiler Filamentzuführung. Das modulare Hotend integriert Vollkupferdüsen, schnelles Schmelzen und Heizen, dreidimensionale Wärmeableitung, um hochpräzises Drucken zu ermöglichen.
Humanity Design:
Gehärtete Glasplattform mit spezieller Beschichtung, gleichmäßige Erwärmung, kein Verziehen mehr und leichteres Entfernen des Modells. Selbst entwickeltes 32-Bit-Motherboard, bessere Leistung, ultraleiser Druck, austauschbare Treiber.
Sicherheitsstromversorgung:
Zertifiziertes 350W, 100-240V anpassungsfähiges Netzteil, mit Überstromschutz, Überspannungsschutz, Wärmeschutz, Kurzschlussschutz, etc. Schnelles Aufheizen der Plattform und des Hotends für den Druck.
Breite Anwendung:
Kompatibel mit verschiedenen 1,75-mm-Druckfilamenten wie PLA, ABS, TPU, PETG, HOLZ usw. weit verbreitet in den Bereichen Heimdekoration, Spielzeug, Anime-Basteln, Bildung, Medizin usw.
---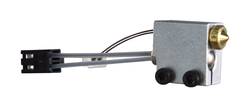 Titan Extruder Backplate / Cooling plate for Artillery Sidewinder X1.
New design with integrated heatsink.
The all new improved Thermal Titan Cover offers improved heat disbursement with the integrated heatsink, as well as extra support for the idle gear lever.
For non-threaded throats / heat breaks only.
---
Touch Screen Assembly for Artillery Sidewinder X1.
Includes the Touch Screen and the Touch Screen Control Board.
Compatible with all versions of Artillery Genius.
Compatible with V.4 of Artillery Sidewinder X1 (Not V.1-V.3).
---