Ersatzteile & Zubehör > Hersteller > Ultimaker, Ersatzteile & Zubehör > Hersteller > Ultimaker: Ultimaker Print Core BB 0-40mm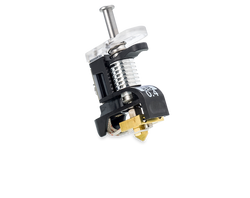 0.40 mm Ultimaker print core for PVA Support material
Maximize print performance and machine uptime with our swappable, material-matching print cores. Set up your 3D printer in seconds, whether you need reliable build and support material combinations for geometric freedom, a different nozzle size, or to print in dual color.
Delivering industrial-grade results
Material-matching. Get quality, consistent results with customized nozzle geometries for different material types: non-abrasive plastics (AA), water-soluble support (BB), and abrasive composites (CC, for Ultimaker S5 only).
Fast setup. Quickly swap print cores and switch between different material combinations to minimize downtime.
More materials. Choose from a broad portfolio of Ultimaker materials or use with third-party filaments for properties to suit every application.
Accurate temperature reading. Maintain the perfect temperature for an even better quality print – with automatic, accurate temperature readings.
Nozzle size choice. Choose 0.25 or 0.4 mm for a higher level of detail and surface quality, or 0.8 mm for faster prints.
Reliable and durable. Better 3D printing results, with a new silicone cover to protect the extruder.
Lifetime support. Wherever you are in the world, our officially trained and certified partners offer free support – guaranteed for a lifetime.
- Ultimaker Print Core BB 0-40mm ist ein Artikel aus der Ersatzteile & Zubehör > Hersteller > Ultimaker Kategorie.

---
Andere Artikel vom Hersteller Ultimaker: