Filament & Resin > Filament > PLA > Andere, Filament & Resin > Filament > PLA > Andere: XYZprinting Da Vinci Tough PLA Refill - 600g - Black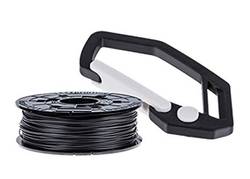 Refill Filament for the XYZPrinting da Vinci 1.0A, da Vinci 2.0A, da Vinci 1.0 AiO, da Vinci 1.1, da Vinci 1.0 Pro, da Vinci 1.0 Pro 3-in-1
Filament refills come in small sizes for space-economy and can be used at any given notice, allowing 3D printer operators and hobbyists to do their part for environmental protection while exercising their creative powers.
High Rigidity & Tensile Strengh
Tough PLA offers tensile strengh and high rigidity
Better Impact Resistance
Tough PLA can withstand a severe impact-load better than PLA.
Non-DEHP ( DEHP FREE )
XYZprintng Tough PLA has gone through rigourous testing by SGS laboratory to ensure that users are safe from harmful substances, such as DEHP and Heavy Metals.
- XYZprinting Da Vinci Tough PLA Refill - 600g - Black ist ein Artikel aus der Filament & Resin > Filament > PLA > Andere Kategorie.

---
Andere Artikel vom Hersteller XYZ Printing: