Filament & Resin > Hersteller > BCN3D, Filament & Resin > Hersteller > BCN3D: BCN3D Filaments BVOH - 2-85 mm - 500 g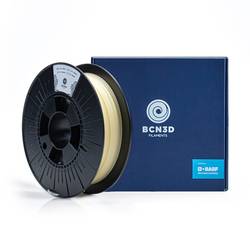 Overview
BVOH (Butenediol vinyl alcohol copolymer) is a water-soluble thermoplastic optimized for the FFF manufacturing process. Our BVOH extends the compatibility with most of BCN3D filaments and can be easily printed to create the support and then dissolved with ordinary water. In comparison with PVA, BVOH supports allow to achieve better surface quality, to orientate the part to get better mechanical properties and even to print multi-component models and mechanisms with a fastest dissolution and easier to remove.
Compatibility: Find out the BCN3D printers and filaments compatibility
Applications
Water-soluble supports for partially enclosed cavities and complex geometries
Smooth finish on functional prototypes
Sacrificial molds
Movable mechanisms
Hollow parts
Properties
Water-soluble material
Compatible with PLA, Tough PLA, PET-G, TPU 98A, ABS, PA and PAHT CF15
Fastest dissolution
Easy to remove inside small parts
Less clogging issues
Highly hygroscopic
Technical information
Dissolution time BVOH vs PVA
BVOH is an outstanding support material for dual extrusion with record dissolution times in water compared with PVA. During the solubility test, BVOH shows dissolution times in water two times faster than PVA.
Wide compatibility with BCN3D Filaments portfolio
 BVOH is compatible with most of the BCN3D Filaments and can be easily printed to create the support and then dissolved with ordinary water.
Printing of large overhangs
Our BVOH is compatible with PLA, PET-G, ABS, TPU, PA and PAHT CF15, thus allowing the creation of water-soluble support structures for the printing of parts also when using highly technical materials.
Printing of complex parts
Exceptional quality of the surfaces in contact with the supports and easy removal of the support even in hard-to-reach geometries.
Support for technical materials
Excellent compatibility and adhesion with ABS and exceptional quality of the surface in contact with the support material.
- BCN3D Filaments BVOH - 2-85 mm - 500 g ist ein Artikel aus der Filament & Resin > Hersteller > BCN3D Kategorie.

---
Andere Artikel vom Hersteller BCN3D: